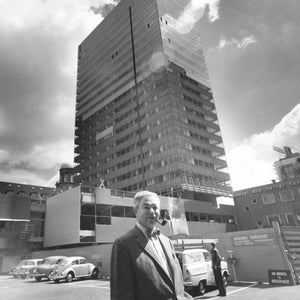 Arne Jacobsen
b. Copenhagen, Denmark, 1902
One of Denmark's most respected architects and designers, Arne Jacobsen is synonymous with the modern movement and is remembered most for his contributions to architectural functionalism. In 1924, Arne Jacobsen began his studies at the Royal Danish Academy of Fine Arts' School of Architecture, graduated in 1927 and was soon employed as a city architect. After graduation, along with Flemming Lassen, Jacobsen won a Danish Architects Association competition for designing the "House of the Future" and Jacobsen was immediately recognized as an ultra-modern architect. 

Jacobsen believed that each element of a house or building should be shaped by the architect and many of his furniture designs were created alongside specific architectural projects. From small holiday homes to larger commercial commissions, Jacobsen designed everything himself, down to cutlery and door handles. He would go on to design Århus City Hall (along with Erik Møller), St. Catherine's College in Oxford and the SAS Royal Hotel, which is considered the world's first designer hotel and an architectural landmark. It is here that Jacobsen introduced the Swan and the Egg chairs; simple but effective designs that would, along with his Charlottenborg Chair, bring him worldwide success.

Jacobsen also taught as a professor at the Royal Academy of Fine Arts in Copenhagen. He was awarded Honorary Doctorates from the University of Oxford and the University of Strathclyde in Glasgow and received multiple awards, including the RIBA Bronze Medal in 1963 and the Medaille d'Or from the Académie d'Architecture de France in 1971.
View All Designers/Makers