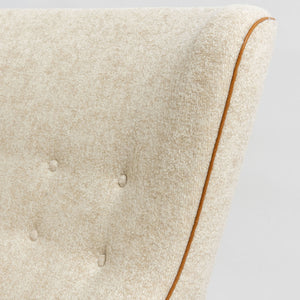 Ole Wanscher
b. Denmark, 1903
Ole Wanscher was an integral part of the Danish modern movement. He studied under Kaare Klint between 1924 to 1927 at the Royal Danish Academy of Fine Arts and later worked at Klint's design studio before becoming an independent furniture designer. He helped shape Danish furniture design as a designer and as an educator when he took over Klint's professorship at the Academy. Wanscher's classic and contemporary designs made him popular and in 1958, the Danish newspaper Politiken wrote: "Owning a Wanscher chair is an adventure every day, and will be so even several hundred years from now, for this is how long it lasts".

Like Klint, Wanscher cited an eclectic array of influences. While traveling through Egypt and Europe, Wanscher studied furniture design, finding inspiration in varied visual expressions that he then incorporated into his own unique design aesthetic. He viewed furniture design as a branch of architecture. Wanscher created his best-known designs primarily between the late 1940s and early 1960s, in the post-war era when the "design for everyone" philosophy emerged. In Denmark, some of design's biggest design names created functional and affordable furniture for the Danish people and the small spaces they lived in. In his later career, Wanscher published a 5,000-year history of furniture, describing some of the most important developments within the Danish history of furniture. These distinct articulations were also a characteristic that was seen in Wanscher's furniture designs, which were said to be "grammatically clear". 

Throughout his life, Wanscher collaborated with master cabinetmaker A.J. Iversen, including the infamous Egyptian Stool and the Colonial Chair, which have become iconic objects of Danish design. Wanscher's designs earned him numerous accolades, including the Copenhagen Carpenters' Guild Annual Award and the gold medal at the Milan Triennale in 1960 – honors that underscored Wanscher's esteemed reputation both in Denmark and internationally.
View All Designers/Makers