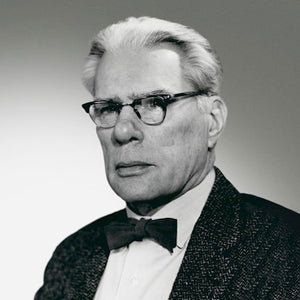 Mogens Koch
b. Frederiksberg, Denmark, 1898
Mogens Koch was a Danish architect, furniture designer, and professor. He attended the Royal Academy of Fine Arts in Copenhagen between 1925 and 1932, after which he worked for Kaare Klint. Koch belonged to the Klint school, with its analytical working methods and functional solutions. Traditional ornamentation and decoration were not a part of Koch's ideology as he believed that an object's purpose should lead the way.

Koch was fascinated by numbers and basic geometric shapes. His most successful piece of furniture is the Bookcase System, originally designed for his own home in 1928, with dimensions based on the most common book heights. Koch's architecture work was primarily with church restorations but also include an extension of the Royal Veterinary and Agricultural University in Frederiksberg.

Koch's designs reveal some of the most elegant and important solutions to the requirements of function, comfort and aesthetics and stand out as original examples of universal utility. Koch was an influential professor at the Royal Danish Academy of Fine Arts as professor of architecture in Copenhagen until 1968. His numerous awards include the Eckersberg Medal in 1938, the C. F. Hansen Medal in 1963, and the ID Prize in 1992.
View All Designers/Makers