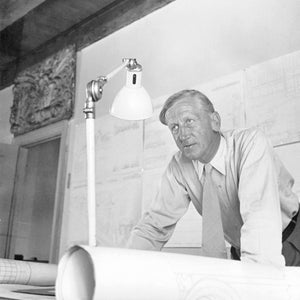 Kaare Klint
b. Frederiksberg, Denmark, 1888
As the son of architect Peder Vilhelm Jensen-Klint, Kaare Klint was immersed in architecture from an early age, but made his profound mark on Danish design history as a furniture designer and educator. In 1924, he helped establish the Department of Furniture Design at the Royal Danish Academy of Fine Arts. As associate professor and later professor, he inspired some of the greatest Danish furniture designers and architects, including Hans J. Wegner, Mogens Koch, Arne Jacobsen and Poul Kjærholm, who would continue to shape the Golden Age of Danish design. He came to be known as the Grandfather of Modern Danish Furniture Design, and would continue to influence future generations of designers with his attention to high quality material, extraordinary craftsmanship, and outstanding sense of proportion and space.

In 1914, Klint designed his first piece of furniture, the "Faaborg Chair" for Carl Petersen's Faaborg Museum. Klint went on to create furniture and fittings for a number of other museums. He was responsible for the conversion of Frederiks Hospital, founded by King Frederik V, into the Danish Museum of Art & Design together with Thorkild Henningsen and Ivar Bentsen and in 1927, Klint created the Red Chair, in mahogany exclusively for the museum which was inspired by English 18th-century chairs.

Klint believed that form had been perfected throughout history and that one could add modernity to an object in terms of shape, line, and materials without having to reinvent it. He is regarded as one of the first designers to put functionalism and the practical study of architecture and furniture design principles above style. In later life, he completed a number of his father's uncompleted projects, including the Grundtvig's Church in Copenhagen. Klint earned many accolades, including the Eckersberg Medal in 1928 and the C.F. Hansen Medal in 1954. In 1949, he became an Honorary Royal Designer for Industry in London.
View All Designers/Makers