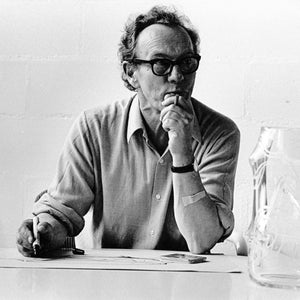 Henning Koppel
b. Copenhagen, Denmark, 1918
Henning Koppel was a Danish artist and designer and is well-known for being an early pioneer of functionalism in design. Koppel's parents were editor-in-chief of Politiken, Valdemar Koppel and translator Elise Jørgensen. He graduated from Ørgårds Gymnasium in 1934 and then studied under professor Einar Utzon-Frank at the Royal Danish Academy of Fine Arts' School of Sculpture in 1936–37 and then at Académie Ranson in Paris in 1938.

As a result of his Jewish background, Koppel, like many Danish Jews, had to seek refuge in Sweden during World War II. During those few years, he attracted attention for his work as a jewelry designer. Back in Denmark in 1945, he obtained a contract with Georg Jensen, a collaboration that would last throughout the rest of his life. His silverwork was abstract and sculptural and unlike anything that came before him. His early designs were flowing and organic, much more like Aalto, Calder, Dali and Leger. His designs included both hollowware, jewelry and flatware patterns. In 1961, Koppel also began to work for Bing & Grøndahl and designed coffee and tea sets, flatware pattern, jugs and serving dishes.

Koppel's work earned him the reputation of being a leading Danish craftsman and he won many awards, including the Lunning Prize (1953), gold medals from the Milan Triennale (1951, 1954 and 1957) and the International Design Award of the American Institute of Interior Designers (1963).
View All Designers/Makers