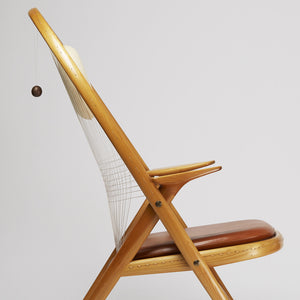 Helge Vestergaard Jensen
b. Denmark, 1917
Already a cabinetmaker in 1937, Helge Vestergaard Jensen continued his studies in furniture design at The School of Arts and Crafts' Furniture School, graduating in 1943. He subsequently graduated from the Royal Danish Academy of Fine Arts, School of Furniture. In the following years he worked at several major Danish architecture firms, including Kaare Klint, Hvidt & Mølgaard Nielsen, Palle Suenson, and Vilhelm Lauritzen and in 1950 he established his own practice.

Jensen frequently collaborated with master cabinetmaker Peder Pedersen and together they were regular exhibitors at the Cabinetmakers' Guild Exhibitions where they helped set new standards for what one might expect from a piece of furniture. In 1955 he put nylon strings in the back of an easy chair to demonstrate the juxtaposition of new artificial materials with natural ones. Jensen's work is characterized by its minimal construction, in order to keep simple and elegant design the focus of the object.

Though Jensen is not widely known, his furniture designs are highly sought after because of the limited number that were produced. His sense of craftsmanship, detail, and his uncompromising approach to design make each an unparalleled and collectible item.
View All Designers/Makers