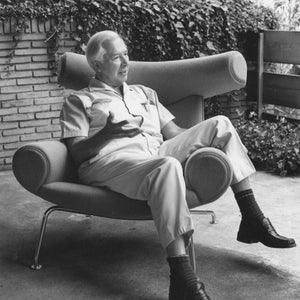 Hans J. Wegner
b. Tønder, Denmark, 1914
Danish designer Hans J. Wegner is considered a furniture design pioneer of the twentieth century and the driving force behind the Danish Modern movement. Wegner began an apprenticeship with a master cabinetmaker when he was just 14 years old, after which he completed his training as a furniture designer at the Royal Danish Academy of Fine Arts, School of Design in Copenhagen. In 1938, Wegner was approached by the architects and designers Arne Jacobsen and Erik Møller to design furniture for the new Århus Town Hall. At the same time, Wegner began collaborating with master cabinetmaker Johannes Hansen, who helped bring new furniture design to the Danish public at the Copenhagen Cabinetmakers' Guild Exhibitions.

By 1946, he had set up his own office in Copenhagen and in 1949, Wegner and Hansen presented the round chair, a simple and comfortable development of Wegner's already well received China Chair, which was heavily influenced by woodwork from the Ming Dynasty. It attracted international attention as the world's most beautiful chair when it was used during the first-ever televised presidential debate between presidential candidates John F. Kennedy and Richard Nixon in 1961. It became known simply as "The Chair" and represented a breakthrough for Danish Design.

Wegner's work, which includes more than 500 chairs, as well as lighting and flatware designs, was a lifelong exploration of expressive and sculptural functionalism with a deep respect and understanding of the materials he was most inspired by.
View All Designers/Makers