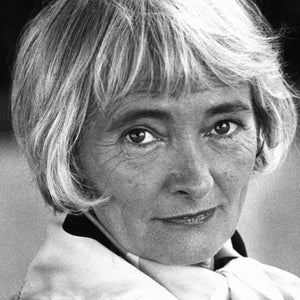 Grete Jalk
b. Copenhagen, Denmark, 1920
Grete Jalk was a Danish designer who helped pave the way for a new era of Danish design, particularly for female designers. After graduating from high school in modern languages and philosophy, she began her design career in 1939 at the School for Drawing and Applied Art for Women, under cabinetmaker Karen Margrethe Conradsen. Jalk finished her training as a carpenter in 1943 and continued her design education at the Royal Danish Academy of Fine Arts under Kaare Klint.

Jalk taught design in Copenhagen from 1950 to 1960, and established her own design studio in 1953 where she created textile and wallpaper designs for Unika Væv and silverware for Georg Jensen in addition to a number of furniture designs. Inspired by Aalto and Eames, she began to develop her own boldly curved models, which resulted in some of her most recognizable furniture designs. She was known both for her individual pieces as well as her ability to create environments finely tuned to their dweller's needs.

Jalk was also a writer and editor, having served as Editor-in-Chief of the Danish furniture and design magazine Mobilia. This led to a four-volume published work on Danish furniture and design, which is still considered to be one of the most comprehensive in its field. Her honesty and genuine interest in quality and experimental design has made her a Danish design icon. In addition to her many awards, Jalk was named as a member of the Danish Design Council in 1981.
View All Designers/Makers