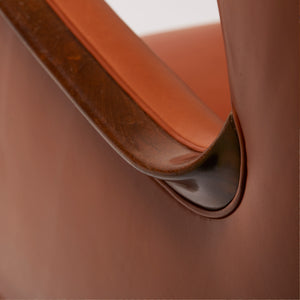 Frits Henningsen
b. Denmark, 1889
Frits Henningsen was a Danish cabinetmaker who achieved high standards of quality with exclusively handmade pieces. In 1911, at age 22, Henningsen completed his cabinetmaker apprenticeship with one of the most recognized cabinetmakers of his day, I.P. Mørck. He then traveled around Europe, working in Germany, France and Great Britain before returning to Copenhagen in 1915.

Henningsen opened a furniture workshop in central Copenhagen, operating it as both proprietor and designer. As an active member of the Cabinetmakers Guild, he became a major driver of the furniture exhibitions of the period, and was admired by his peers for the high quality of his craftsmanship. He reinterpreted traditional designs and drew inspiration from the French Empire, Rococo, and British 17th century furniture. Unlike most cabinetmakers, Henningsen always designed his own furniture pieces and they were all handmade, using exclusively the labor intensive, traditional methods he inherited from the 19th century.

Henningsen believed that furniture design needed to maintain curvature which contributed to a homely look. His pieces are noted above all for their elegance and soft curves. His work is rooted in classic craftsmanship with a design expression that has broad appeal.
View All Designers/Makers