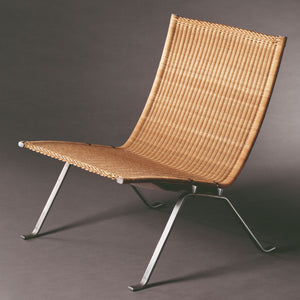 Poul Kjærholm
b. Østervrå, Denmark, 1929
Danish architect Poul Kjærholm finished his training as a cabinetmaker in 1949 and continued his education at the Danish Design School, graduating in 1952. Kjærholm's final examination project was his now infamous Flagline Chair, or PK25, in 1952. During that same time he sat in on lectures at the Royal Danish Academy of Fine Arts, School of Architecture, where he would later return as a lecturer and eventually as professor.

Kjærholm designed and taught modern functionalist furniture that was praised for its understated elegance, clear expression, and exquisite craftsmanship. Although he was trained as a cabinetmaker, Kjærholm's work stands out among that of his Danish contemporaries because of his extensive use of steel frames rather than wood. He became known for these modernist steel, leather and glass furniture pieces that would become iconic Danish designs, including the famous PK22 Chair and PK 24 Lounge Chair. In 1955, Kjærholm initiated his collaboration with manufacturer Ejvind Kold Christensen, which lasted until his death in 1980. 

Through his work as an architect and teacher, Poul Kjærholm became an international design figure and a key representative of Danish modernism. In addition to his many prestigious awards, his designs are in the permanent collections of the Museum of Modern Art in New York, the V&A Museum in London and other museum collections in Denmark, Norway, Sweden, and Germany. In 2006, he was the subject of a major retrospective at the Louisiana Museum of Art in Denmark.
View All Designers/Makers