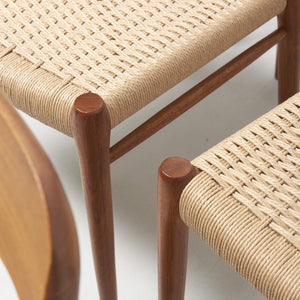 Niels Møller
b. Århus, Denmark, 1920
Danish designer and furniture producer Niels Møller earned a reputation for consistent excellence in quality and painstaking attention to workmanship. Møller's dedication to his craft stemmed from his cabinetmaking apprenticeship, completed in 1939, which was followed by studies at the Århus School of Design. In 1944, Møller founded his own furniture production company, J.L. Møllers Møbelfabrik, in a tiny workshop in the center of his hometown. While overseeing traditional furniture production in his factory, Møller continued to design.

Møller's furniture designs were produced by his own company. His chairs, such as the sculptural No. 56 and No. 71, strongly represent, through the choice of materials and the soft curves, the Scandinavian post-war vision of practical yet well-made design. By the 1950's, and in order to keep up with demand, Møller expanded his production facilities and started exporting to Germany and the United States. Møller designed and produced a formidable number of chairs and his brand became synonymous the world over with high quality Danish design.

This reputation was bequeathed to his children following his death in 1982 and the company remains in the family name to this day. "My father never compromised on anything," says Niels' son Jørgen Henrik Møller, "and each design took him five years to complete." J.L. Møllers Møbelfabrik has received many awards, including the Danish Furniture Prize, with special mention for its "ability to combine the best craft traditions with modern furniture manufacturing".
View All Designers/Makers