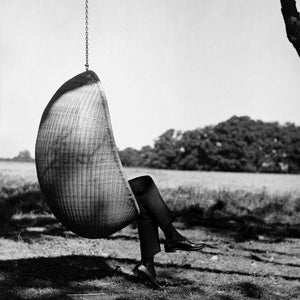 Nanna Ditzel
b. Copenhagen, Denmark, 1923
Considered by many to be the First Lady of Danish Design, Nanna Ditzel started her career as an apprentice cabinetmaker at the Richards School in Denmark before moving on to study furniture at The School of Arts and Crafts. It was there that Ditzel met her future husband, Jørgen, and soon after, the pair began showing at the Annual Cabinetmakers' Guild exhibitions together.

The Ditzels began their own studio in Copenhagen with projects ranging from interiors, furniture, fabrics and jewelry while utilizing a variety of materials in their works such as rattan, fiberglass, foam, and textiles. Because of the belief that functional design could benefit all ages, the Ditzels created multipurpose pieces that could grow with the child. In 1957, they won the silver medal at the Triennale furniture design competition in Milan and the gold medal in 1960. After Jørgen's sudden death at age 40 in 1961, when Nanna eventually returned to design work, she created the successful "Toadstool" series, a multi-purpose stacking stool and table for children.

It was through Nanna Ditzel Productions, Ltd., that she would go on to create internationally successful designs that would define her later career. Ditzel became active in design, academic, and manufacturing guilds and boards, further edifying her position as a designer of note and person of influence. Of her many awards, she received the "Order of the Dannebrog" in 1955 and was bestowed the title "Royal Designer" by the "Royal Society of Arts" in London in 1996. In 1999 she was awarded the Bindesboll Medal in recognition of her enormous impact on Danish design in the 20th century.
View All Designers/Makers