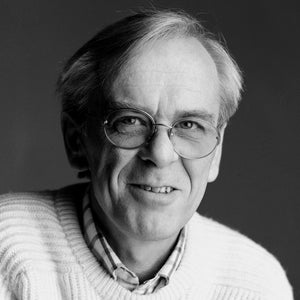 Jørgen Gammelgaard
b. Copenhagen, Denmark, 1938
Jørgen Gammelgaard was a Danish furniture maker, industrial designer and professor. He was trained as a cabinetmaker at The School of Arts and Crafts and then served an apprenticeship at C.B. Hansen's workshop in Copenhagen after which he studied under Grete Jalk. He was a visiting student of furniture design at the Royal Academy of Fine Arts, working under Poul Kjærholm and Ole Wanscher.

In the 1960s, Gammelgaard did consultancy work for the UN in Samoa and in Sudan. During his stay in Samoa, he had a simple fluorescent tube as his only light. To get a better quality of light, he ingeniously tilted the horizontally hanging fluorescent tube 90°, to an upright vertically position and fitted it with a range of "shades" cut from plastic. This was the inspiration for his now-famous Tip-Top Lamp.

In 1973 Gammelgaard established his own design practice. Some of his best known designs include the Swing VIP Desk Lamp (1983), silverware for Georg Jensen, the lighting of the Royal Veterinary and Agricultural University, Rødovre Library, and IBM's headquarters in Lyngby, and a folding chair in steel and canvas for Design Forum. Gammelgaard was the first designer to receive the annual awards from both the Danish Design Council and The Council for Arts and Crafts. He was a professor at the Royal Danish Academy of Fine Arts, School of Architecture from 1987 until his death in 1991.
View All Designers/Makers