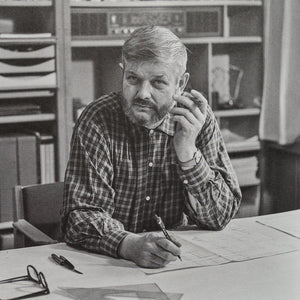 Børge Mogensen
b. Aalborg, Denmark, 1914
Born in Aalborg, Denmark in 1914, Børge Mogensen trained as a cabinetmaker in 1934, followed by studies in furniture design. As an architecture student at the Royal Danish Academy of Fine Arts, Mogensen was inspired by the furniture school's founder, Kaare Klint and his use of human proportions combined with functionalism. During this period he worked in the studios of Klint and Mogens Koch until he was hired as Chief Designer for the Danish furniture cooperative FDB in 1942. Concurrently with his employment at FDB, he taught with Klint at the Royal Danish Academy of Fine Arts, School of Architecture.

He began his own design studio in 1950, making modern and functional furniture produced from local materials. His inspiration came from many cultures and styles, including international modernism, ethnic arts and Japanese carvings. Like Klint, Mogensen believed that older furniture that had already proven their utility value, like the Shaker chair, could be the starting point for new furniture.

Mogensen became known as "the people's designer", with an engaging personality and a creative process that allowed all homes access to furniture that was simple, functional and of high quality. His furniture, strongly representative of his traditional craftsman training, was greatly appreciated by a public who had not yet grasped modernism. He also famously collaborated with architect and designer Grethe Meyer on the cupboard project known as Boligens Byggeskabe, which introduced the idea of building shelving and storage units as part of a room. A prolific designer and a leading figure of Danish Modern design, Mogensen was also highly influential in carrying the workmanship of the craftsman into industrial production.
View All Designers/Makers